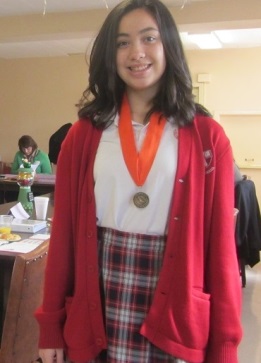 Samantha is in the 8th grade and thanks to the guidance and support of the Sacred Heart Elementary School community, she is ready to take on the challenges of high school and plans on attending college. "We couldn't be more proud of Samantha," says principal Sister Maria Elena. "She is a shining example of how our school community works together to ensure that each student is well prepared for the future."
Earlier this year, Samantha was part of the SHES Decathalon team and placed in Literature after answering questions about the book she had been asked to read, "The Wednesday Wars" by Gary D. Schmidt.
"I loved this book!" says Samantha. "It's about a 7th grade boy who starts out hating his teacher but realizes by the end of the book that the teacher is his friend, mentor, and main supporter who helped him with family conflicts and to focus on his education. I feel the same way here at Sacred Heart Elementary School. During the last nine years, I have developed a close relationship with my 8th grade teacher, Ms. Pinal, and with our principal, Sister Maria Elena. They have both helped me discover who I am , what I want to do with my future, and how to be the best student I can be!"
"I am so excited about next year and my new life at Flintridge Sacred Heart Academy," Samantha continues. " I plan on working hard to realize my dream of becoming a veterinarian, and to also open my own animal rescue shelter someday."
More than 100 Catholic elementary schools from throughout the Archdiocese of Los Angeles met in March at the Los Angeles Memorial Sports Arena to compete in the 25th Annual Junior High Academic Decathlon. The competition was comprised of ten events, including Catholic doctrine, English, Literature, Science, Mathematics, Current Events, Social Studies and Fine Arts.