Join a Sports Team at Sacred Heart
Our parents actively participate and volunteer as coaches, team parents, and cheering fans.
Catholic Youth Organization
Sacred Heart School is a member of the CYO league.
Our Programs:
Boys' Flag Football
Boys' Basketball
Boys' Volleyball
Girls' Volleyball
Girls' Basketball
Girls' Softball
Our Boys' teams usually finish in the top 3 in the CYO league.  Over the past 15 years Sacred Heart girls Lancers have always gone to the CYO playoffs in all of the above sports. In 2006 the girls basketball team won the CYO Conference Title.
St. Sebastian Sports Project Partnership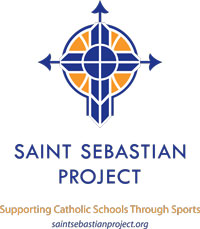 The Saint Sebastian Sports Project (SSSP) provides Sacred Heart Elementary School with resources critical to building quality team sports programs. In addition, SSSP holds clinics to enhance coaching skills and hosts flag football, volleyball, basketball and soccer tournaments.  To expose students to college opportunities, SSSP has partnered with Loyola Marymount University to sponsor fun-packed sports days.  Finally, in 2017, SSSP hosted it's first "Leadership Academy"  to help prepare outstanding eighth grade scholar-athletes for the transition to high school. SSSP is changing lives, one game at a time.  www.saintsebastianproject.org