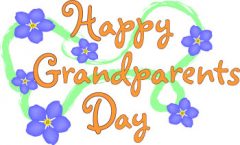 We celebrated Grandparents Day here at Sacred Heart on Friday, September 8th. We started with a Mass, followed by a beautiful reception in the school meeting room. Grandparents and their grandchildren enjoyed muffins, pan dulce, churros, and cookies along with coffee and juice.
We were blessed with an overwhelming attendance at our Grandparents Day event.
We would like to thank our Student Council for organizing this event, and our volunteer parents who made the day a success. A special thank you to Mrs. Ramirez (Ethan – 8th grade) for coordinating this event again this year.
Thank you to Ms. Castillo and Rosita for capturing the special moments of the day.
Much love and blessings to all of our wonderful grandparents!